Create your own box
Make a selection below to create your own box.
Choose from large scones, sconies (mini-scones), gluten-free, vegan and treats.
Purchase with Purpose
We're proud to support Saprea in their efforts to help the victims of abuse. Donate or purchase the box.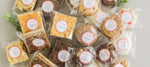 We're here to brighten up your life
One Scone at a time
Every Scone we ship is individually packaged in our signature red box with love ❤️ & care 🤗. To guarantee ultimate freshness we bake your scones the same day we ship them!
We carry a lot of flavors that change frequently. 😋 Curious about which flavors are currently in stock? 🤔 Head over to our flavors page.
How It arrives
Every scone is individually packed. We ship out our scones in our signature red box with love & care instructions.
What our customers say
0

These will change everything you know about scones. Delicious and moist. Sweet and savory. These are awesome

Greg Galloway

0

Amazing. I bought scones at the Peachtree Farmers market. Asiago and Garlic was amazing. I will be ordering more

Trish Robinson

0

These are some of the best scones I have ever had. The breakfast scone with egg and cheese is so filling and fresh!

Rebekah Haggard
As seen in